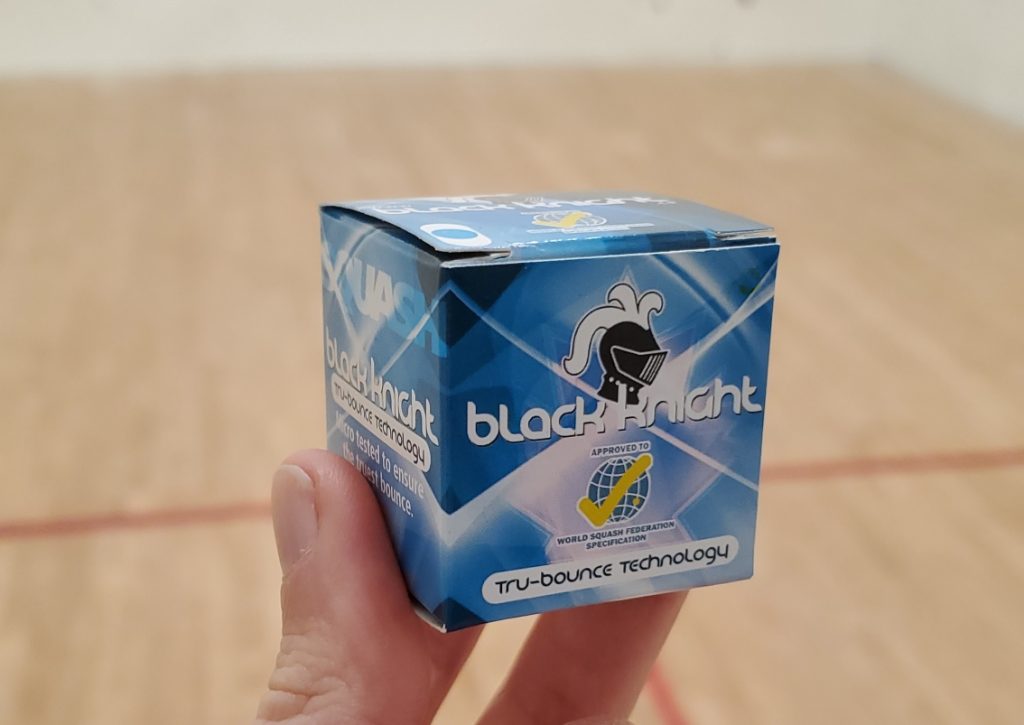 A few weeks ago, I was in Vancouver visiting the Yumo Pro Shop. As I was poking around looking at the new gear and equipment that came in for 2019, Malisa, the owner, suggested I take a couple of squash balls to test out. One of those was the Black Knight blue dot ball pictured above.
Fast forward to this past week, I started filming some footage for my upcoming review of the Dunlop Precision Pro 130. I have been struggling with a bit of tendinitis and wasn't feeling like putting in the effort to keep even a single yellow dot warm enough for the duration of the shoot. Fortunately, I had the Black Knight blue dot ball in my bag. This seemed like the perfect opportunity to give it a try.

The first thing I noticed when I took the ball out of the box was that it is roughly the same size as the Dunlop double yellow dots I normally play with. Why is this significant? Well, in comparison, the Dunlop blue dot balls are much larger than your standard yellow dot, not to mention heavier. I never really enjoyed practicing with them because the size and weight make them feel different on the strings. This makes sense for beginner players to have a larger, more forgiving target, but for intermediate and advanced players it might actually be detrimental to use. Already the Black Knight blue dot was looking promising!
Even more surprising, was the bounce of the ball. It's perfect for practicing drop shots solo! I plan to do a comparison of a hot double yellow and a cool black knight blue dot in the future, but I predict they are going to be very similar.
Even after all of this time, I get excited when I find new training tools. Give this ball a try and let me know what you think!
Order the Black Knight Blue Dot Ball by clicking here.
🛒 🇨🇦 🇺🇸
Enjoyed this post? Share it!